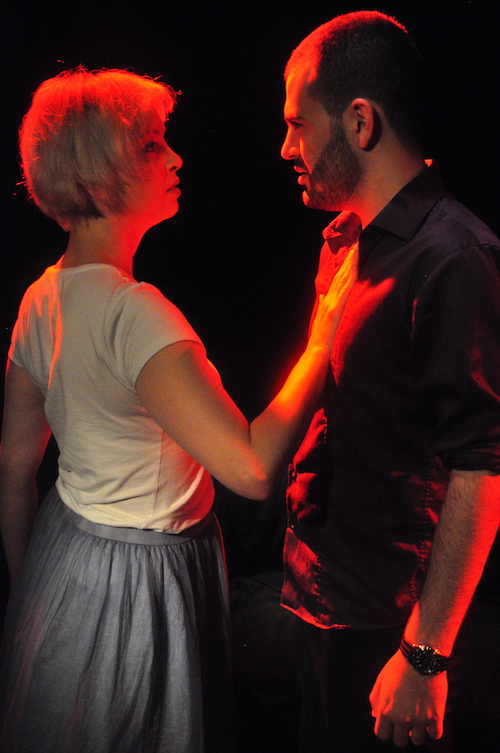 One act play (60 min running time) explores the struggles and challenges of a modern, high-achieving couple in their twenties in relation to parenthood, careerism and self-realization in realistic ways. On the other hand, it questions the existence of unconditional, true, everlasting love and fatality of the soul. The audiences follow Mistral (aspiring dancer) and Warren (post grad student of architecture), who are expecting an unwanted and unplanned baby and cross the paths with a very old soul, Imogen, who has a special agenda. She embodies the fetus of pregnant Mistral and is later on born as their daughter … only for Mistral to discover that it can take (more than) a lifetime to fulfil or destroy one's dreams.

Aeonian explores universal themes such as life, death, sex, jealousy, hope, regret and love. It is suitable for all profiles of people, old enough to understand sexual relationships. Sparky, witty dialogue and wordplay are balanced with constant dramatic tension and sharp one-liners. The play breaks stereotypes and gives spectators the chance to engage and expand their horizons, make their own mind on the subject of motherhood, fatherhood, current soc-political situations, reincarnation, love and also the dynamics of modern intimate relationships.
WRITER & DIRECTOR
Vesna Hauschild


MOVEMENT DIRECTOR
Kat Boart


CAST
IMOGEN Kat Boart
MISTRAL Marta Carvalho
WARREN Davey Seagle


MUSIC
Peter Penko, Slovenia
Filipe Damiao, Portugal


VISUAL DESIGN
Kaya Tokuhisa
Uldis Darznieks


PRODUCER
Vixen Theatre


SPECIAL THANKS TO MAIN YARD STUDIOS IN WIMBLEDON!